Ardbeg Monsters of Smoke Set
The three Monsters of Smoke.
3 bottles with gift box - 20 cL
Hidden content
Subscription to Islay time included
It's pronounced 'eye-lah'
Containing a 20 cL bottle each of Ardbeg's iconic smoky single-malt whiskies, the Monsters of Smoke trio unleashes flavour in a big way. Each collectable bottle is decorated with a unique artwork hiding beneath the label. Peel to reveal yours. Includes the flagship Ardbeg Ten Years Old, the feisty and youthful Ardbeg Five Years Old Wee Beastie and Ardbeg An Oa, an incredibly complex Islay scotch finished in three different types of cask. Various cask finishes
Smoky, beastly flavours and aromas...
Ten - A burst of intense smoky fruit escapes into the atmosphere of peat infused with zesty lemon and lime, wrapped in waxy dark chocolate. Bold menthol and black pepper slice through the sweet smoke followed by tarry ropes and graphite. Savour the aroma of smoked fish and crispy bacon alongside green bell peppers, baked pineapple and pear juice. Wee Beastie - The first sniff alerts you to a nearby presence… heightened senses are filled with very bright, fresh herbal notes, with creeping hints of vanilla and pear. Rich Turkish coffee mingles with sappy pine resin, with honey-glazed ham lurking in the background An Oa - Rounded and smoky - like burning Applewood - with creamy toffee, aniseed, treacle and dates. A curious suggestion of juicy fruits, such as peach and banana.
Ten - An explosion of crackling peat sets off millions of flavour explosions: peat effervesces with tangy lemon and lime juice, black pepper pops with sizzling cinnamon-spiced toffee. Then comes a wave of brine infused with smooth buttermilk, ripe bananas and currants. Smoke gradually wells up on the palate bringing a mouthful of warm creamy cappuccino and toasted marshmallows. Wee Beastie - Suddenly, a rich, explosive mouthfeel bursts forth with chocolate, creosote and tar. A powerful blast of eucalyptus thrashes about with antiseptic lozenges and aniseed. The raw, smoky intensity gathers pace, before smoked bacon and savoury meats sink into the palate. An Oa - A smooth, creamy texture leads into a huge syrupy sweetness, flavours of milk chocolate, treacle toffee, aniseed, orange and smoky tea leaves. Gentle, sweet spices (nutmeg & cinnamon), some cigar smoke, and a very unusual flavour of grilled artichokes.
Ten - The finish goes on and on a long and smoky with tarry espresso, aniseed, toasted almonds and traces of soft barley and fresh pear. Wee Beastie - The long, salty mouthcoating finish retreats, with hints of cocoa and fudge slinking slowly away. An Oa - Lingering, seductive, gentle yet intense, with flavours of aniseed, hickory and distant subtle smoke.
Enjoy three huge whiskies with this Monsters set.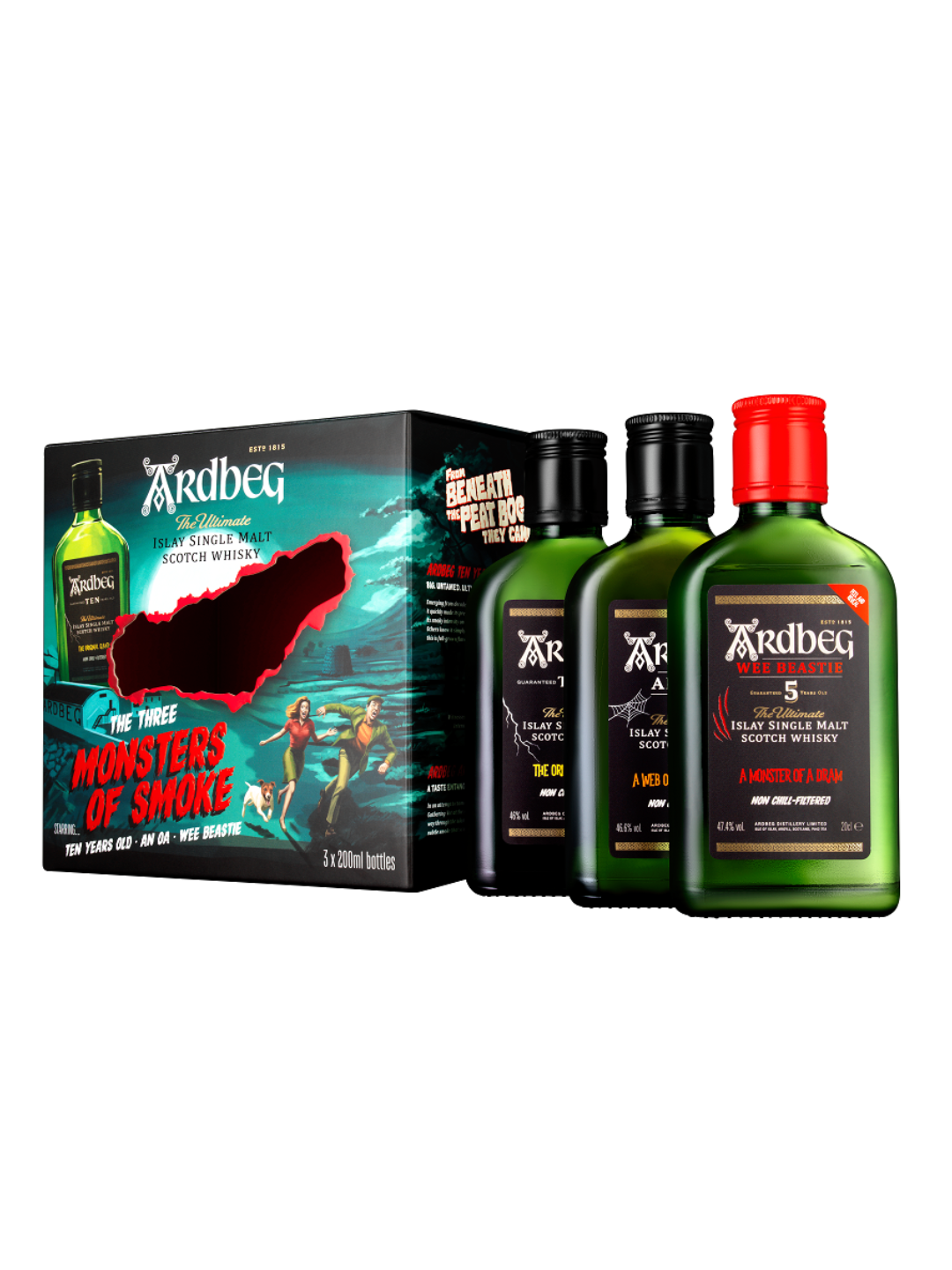 Ardbeg Monsters of Smoke Set
3 bottles with gift box - 20 cL