Ardbeg 19 Years Old Traigh Bhan Batch 5
Gift box with bottle - 70cL
SMALL BATCH RELEASE
IT'S PRONOUNCED 'EYE-LAH'
Subscription to Islay time included
From the Ardbeg Distillery to Port Ellen and beyond, follow the rocky coast and you will discover the heavenly vista of Traigh Bhan (pronounced tri-van), the beautiful beach known locally as the Singing Sands…
For this captivating place has soft white sands that sing beneath your feet, a hum that ebbs and flows with the winds and the tides. But beguiling as this place is, do not drop your guard. Bathing is ill-advised in the seemingly tame crystal waters where jagged, volcanic rocks pierce the sands along the shore.
TROPICAL TIDES
Bottled in humidity, this rare small batch 19-year-old Ardbeg is arguably the most tropical dram to leave the Distillery.
Batch code: TB/05-12.02.2004/23.GM
Non chill filtered at 46.2%. Oloroso sherry cask Ex-bourbon cask
Sweet Mango. Maple Bacon. Soot.
Perfumed aromas of luscious tropical fruit flow on the breeze, while curious notes of herbal incense and smoke follow closely behind. Menthol lozenge and saddle soap laps over charred green pepper, before smoked mango, guava and coconut mingle in an effervescing top note.
A creamy mouthfeel leads the way into a crashing symphony of herbal, spicy flavours. Smoked maple cured bacon, charcoal, white pepper and clove rush forth amid gentle overtones of the outdoors in wood smoke and sea spray.
A satisfyingly long finish welcomes more tropical notes, with fragrant heather, warm toffee and smoked butter on the horizon.
Small batch release, bottled in humidity.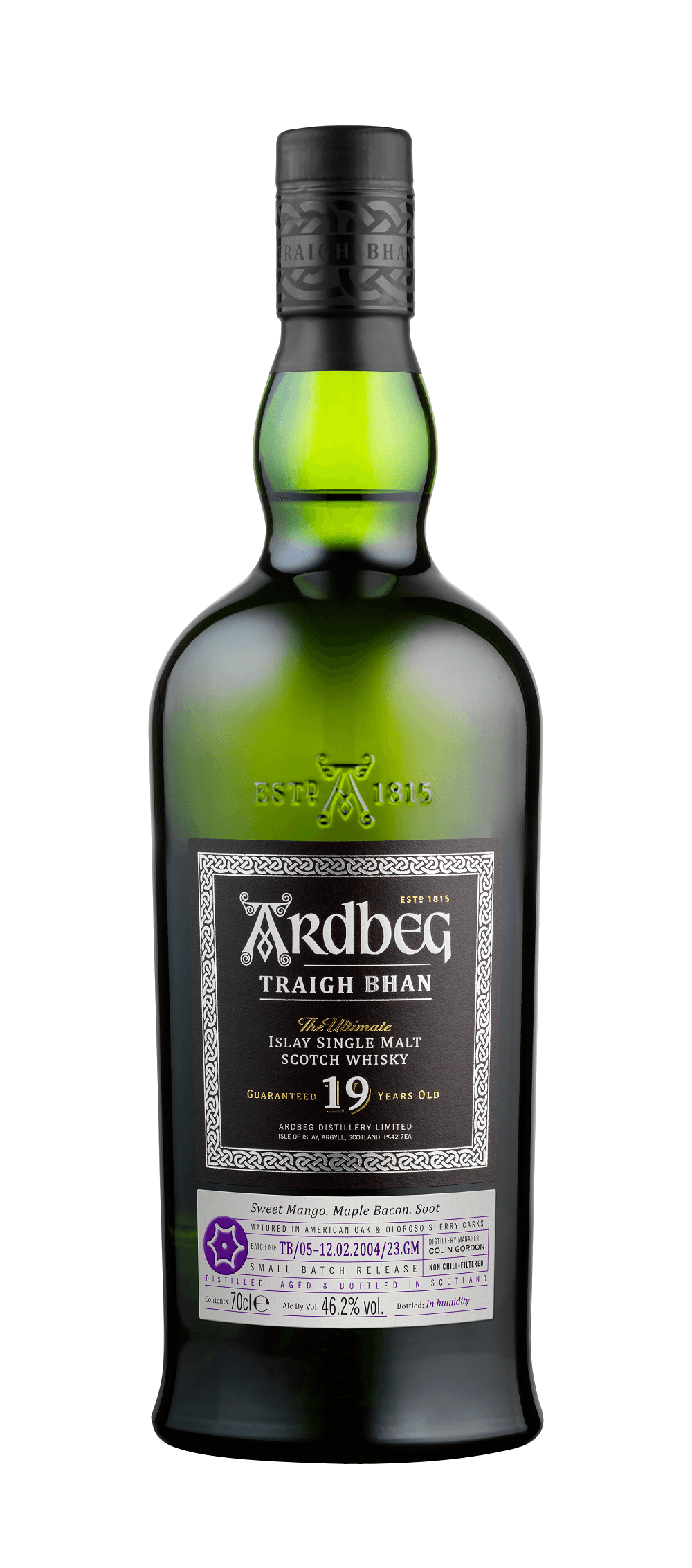 Ardbeg 19 Years Old Traigh Bhan Batch 5
Gift box with bottle - 70cL