Bringing the everyday cookout into a new age.
Gift box with bottle - 70 cL
Unique gift
Subscription to Islay time included
It's pronounced 'eye-lah'
This gift pack includes one BBQ Smoker and one 70cl bottle of Ardbeg An Oa – the perfect spirit for sippin' and tearin'. Small but mighty, the smoker lets you surround your food with smoke in just a few easy steps. Simply fill the puck with wood chips, lay it at the back of your grill, wait until your BBQ is sufficiently smoky, place your food around the puck, smoke it out some more, and voilà!
ARDBEG AN OA
Ardbeg An Oa's rounded and subtly smoky aromas make it the prime spirit for toasting by the BBQ. With notes of thick cigar smoke, roasted tea leaves and grilled artichokes, this whisky is the perfectly peaty dance partner for your smoky culinary creations. To create the complex An Oa, whiskies matured in three different types of cask – Pedro Ximénez sherry, virgin charred oak and ex-bourbon – are blended together in a bespoke gathering vat.
SAFETY INSTRUCTIONS
The Ardbeg BBQ Smoker should only be used for its intended use. Keep away from pets and children, especially when in use. Check your local rules and regulations around open fires, BBQ and smoke before use. Do not handle when hot without appropriate tools. Be aware of heat/flame from BBQ during use and take appropriate safety precautions. Do not breathe in smoke. Do not place hot smoker on or near flammable surfaces, materials, or substances. Please ensure to use hard wood that is free from resin or inclusions (for example glue, nails, bugs, chemicals or paint).
Pedro Ximenez
Virgin charred oak
Ex-bourbon cask
Smoky. Sweet. Singularly rounded.
Rounded and smoky - like burning Applewood - with creamy toffee, aniseed, treacle and dates. A curious suggestion of juicy fruits, such as peach and banana. With a drop of water, reminders of Ardbeg's classic fragrance – lime, pine resin, fennel, saddle soap and tar. A gentle waxiness, like fragrant candle wax, and hints of smoked herbs. An Oa gives a final subtle reminder of the sea with briny notes and seaweed but always accompanied with creaminess.
A smooth, creamy texture leads into a huge syrupy sweetness, flavours of milk chocolate, treacle toffee, aniseed, orange and smoky tea leaves. Gentle, sweet spices (nutmeg & cinnamon), some cigar smoke, and a very unusual flavour of grilled artichokes. Wood is always present in the spirit, gently nutty and reminiscent of a carpenter's workshop. A long, sweet finish, with floral overtones, mint toffee and some gentle malty biscuit notes.
Lingering, seductive, gentle yet intense, with flavours of aniseed, hickory and distant subtle smoke.
The perfect gift for BBQ lovers.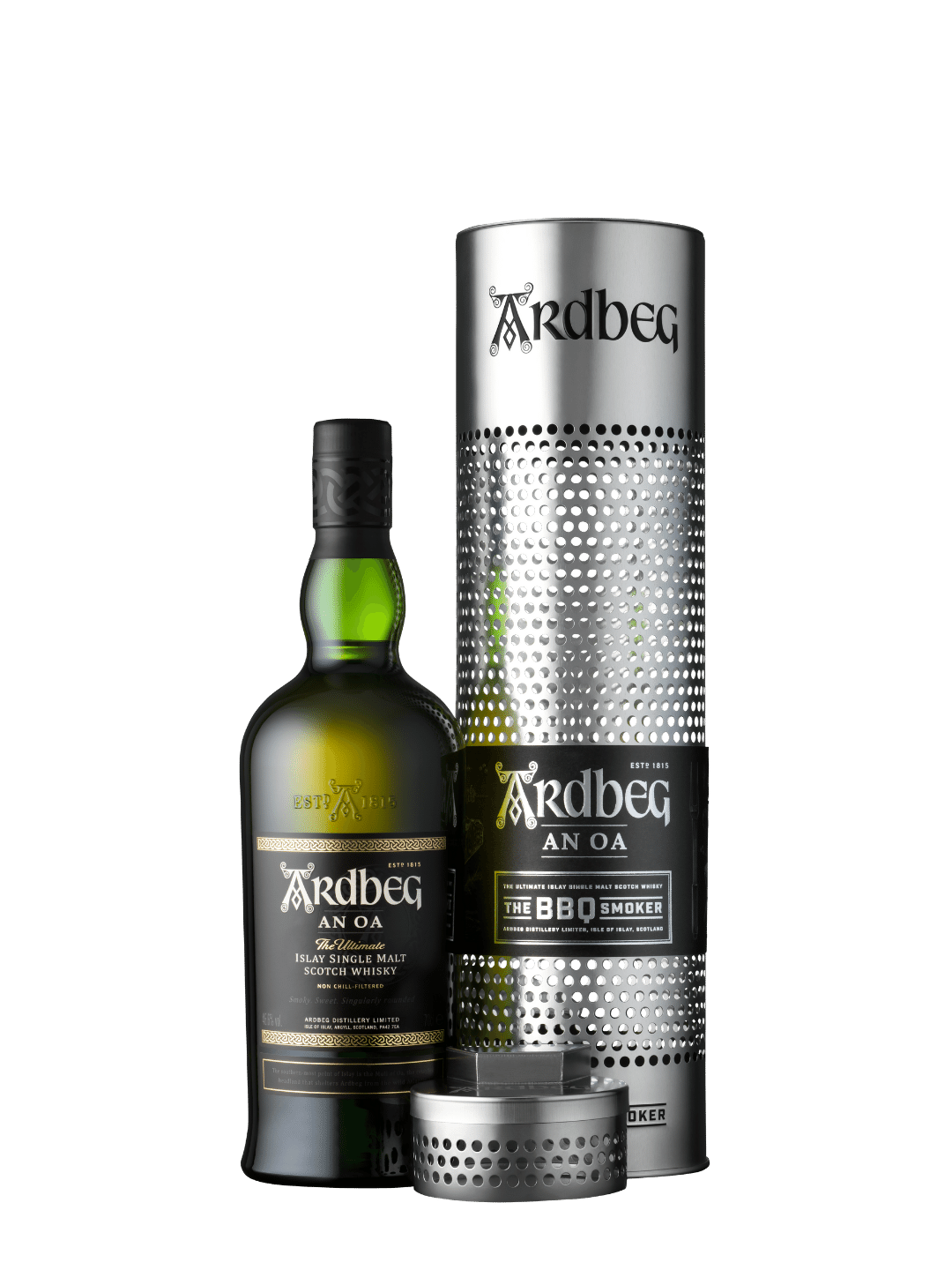 Ardbeg BBQ Smoker Set
Gift box with bottle - 70 cL